The XDs was returned. Looked OK... but I had it sold before I got it back.
Readers know how disappointed I was with the absolutely screwed-up recall that Springfield Arms just ran on the XDs .45 compact.
Here's how I resolved the situation: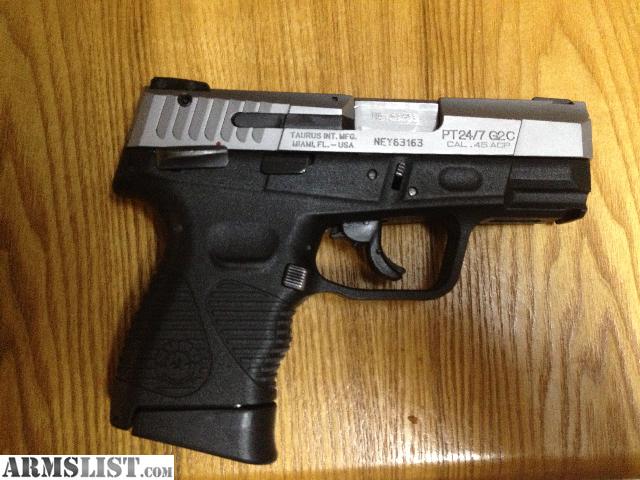 Taurus PT24/7 G2C DA/SA DS .45
I picked this up today moments after I dumped my unfired Springfield Arms XDs .45, for exactly one dollar more than I paid for it.
The Taurus's advantages:
11 and 13 round magazines came with it (XDs came with 2X6 round mags) $444 new at Brightwater ($599 for the XDs @ Cabela in Lacey.)
Anyway, my long, tortuous time waiting to get my .45 back from SA ended: I took the money from that and picked up this, instead... which oddly has the precise same footprint, size-wise as a Walther PK380. I mean, exactly. The Taurus is a little wider over all, and a little heavier, but that's to be expected.
They went their way... and I went mine.
__________________________________________________________________________
(Oct 28) A few minutes ago, I received an email from Springfield Armory indicating that after having picked up my .45 XDs from FedEx on September 3, that it's supposed to be delivered here on 30 October.
I'm already making arrangements to get rid of it. I'm going Glock, most likely.
This could have been handled much better in so many ways...
The extra 7 round mag is a nice touch... but frankly, it should have been part of the package when I bought it.
____________________________________________________________________________
So, Springfield Arms is starting to feel it.
They finally have come clean on their FAQ:
We pledge to you that we are working as fast as we can, and have greatly increased our staff and number of shifts to ensure that we are leveraging every hour in the day.

We understand that our decision to announce a voluntary safety recall without a final solution in place has caused confusion and frustration. We sincerely apologize for that inconvenience. However, your safety is, and always has been, our paramount concern. And that is why we decided to issue the voluntary safety recall before we had a guaranteed upgrade solution in place.
Bull
Shit.
Here's the thing: they could have issued a warning to not fire the weapon and then begin the recall AFTER they had set up the system to fix it: (i.e. manufacture the right parts in big enough numbers, distributed to parts to gun sellers who could handle the repair, paid them to do it; enabled us to bring our guns in for a "while you wait" or at least an overhight repair, and then thrown in a 7 round magazine to apologize with.)
That way, many of us who bought this thing for personal protection would actually HAVE it for personal protection, instead of allowing it to gather dust in an SA warehouse.
This has nothing to do with OUR safety: instead, it has to do with THEIR perceived liability.
Our decision not to wait was based on putting you, our customer, first. Some companies build in several weeks of lead time before announcing their recalls. But, we didn't feel that was the most responsible approach in this case since our priority is your safety.
Since even THEY call this a "voluntary recall," this has squat to do with OUR safety. OUR safety demands that we have personal protection weapons. Right now, and apparently, for the indefinite future we are not GOING to have our personal protection weapons available to us.
Please know that we are committed to resolving this matter as quickly as possible and we are committed to ensuring that you will be very pleased with your upgraded 3.3 XD-S™. As a reminder, do not use your 3.3 XD-S™ until the upgrade has been performed.
*I* won't be "pleased" with it, ever, because I am going to get rid of this garbage as soon as possible, and get a gun where the company doesn't screw up, and then screw you by lying and misleading about the recall in the first place.
They should offer a full refund to everyone who can prove they bought it. That's what I want, and that's what I and the thousands of others who find their XDs's held hostage by incompetence while we wait... and wait... and wait... for some nebulous, to be determined date to get this garbage back.
So, here's the thing, Springfield Arms: if I ever find myself in a situation where I NEED a gun but don't HAVE a gun because it's sitting on one of YOUR shelves, I'll just tell the bad guys to wait until you people get off the dime and ship my unfired, brand new .45 back before they shoot me.
OK?
I will never, ever, by a Springfield Arms product again. Ever. There is no excuse for this. None.
__________________________________________________________
Initial Post - 5 Sep
Springfield Armory makes a few models of pistols that I like. As a result, I decided to get a smaller .45 (That Colt Government is getting heavy...) so early last month or so I picked up a XDs .45 3.3... a nice weapon, but not exactly what I was looking for, as it turned out, but nice, none-the-less.) So, I swung by the Cabela's in Olympia, where I got hosed on the price (My bad, not theirs... no one made me buy it, but discovering it was 84$ cheaper in Portland at NW Armory didn't give me a thrill.)
So, imagine my dismay when, even before I could fire it, they recalled it over the grip safety and a single pull/double-fire issue.
That's OK, I guess. Even Bentleys have been recalled, I thought.
They did a really good job of setting up the FedEx return, although, because it's a firearm, you have to take it to a FedEx store and not a drop off box. I'm not sure why... the guy never asked me what was in the package.
Anyway, FedEx did what they do, and the weapon was received in Moline, IL on Tuesday this week.
But then, the thought occurred to me that nowhere had they posted what the turn-around time was going to be.
So, I thought I'd call them to find out. And that's where it got stupid.
Their phone system is wholly inadequate for the call volume, so I kept getting a "circuits are busy" intercept.
I called back repeatedly, and on my 8th attempt, got through.
The first option they offered was to hit "7" for information relevant to the XDs recall.
As you might expect, there was a wait. A LONG wait, with annoying elevator music and a witch doing a voice-over every 30 seconds to tell us we could wait or hit 1 to leave a message.
When I finally got to a human, I asked him: so what's the turnaround time on this?
He didn't know. Somewhere towards the end of September was all he had.
And that, folks, is no way to run an airline.
It wasn't this guy's fault: he can only say what he was told to say.
But after dropping almost 6 bills on a pistol that I haven't even been able to fire, and then to be told they don't know when they can return it?
That.
Sucks.
So, I did what I always do when the service or information is inadequate.
I asked to talk to his boss.
"She's gone for the rest of the day," I was told.
What the hell is up with that?
I told him "Look, I appreciate that none of this is your fault, and I'm even willing to eat the fact that my unfired weapon has been recalled. But between the absurd phone system and your complete lack of useful information, what on earth makes you think that I'd ever even consider buying another weapon from your company?"
Well, he said, this is the first time we've had a recall.
I responded: "And? I'm talking about some common sense here. I used to be an armorer in the Army: I know how long it takes to pull a grip apart and replace the parts. We're not talking about a missile warhead here."
He offered to take down my name and number and have her call me tomorrow,. I provided it, and I look forward to it.
But the customer service better get better and fast, or I will never darken SA's doorway again.
Glock is right down the street.