It's amazing the number of "experts" that suddenly popped up out of nowhere to support the unconscionable and absolutely illegal action of #United in their handling of the passenger matter.
There is no doubt that by the time this idiocy is over, this man will likely get an 8 figure settlement out of UA and he should.
Neither the airline nor their agents, in this case, the police acting on their behalf (And they are going to have to pay huge as well) had any right to physically force this man to leave the plane.
"Picking a name at random" does not rise to the level of "cause" for physically assaulting anyone in the name of freeing up a seat.
United's problem of overbooking did not become this man's emergency merely because they demanded that the seat he had paid for be vacated so they could fly an employee in its stead.
Those who know and understand the law, understand that neither the airlines nor those actually engaged in this removal have any defense.
None.
Even conservatives have screwed this up by claiming, in effect, that United can/could do anything they damned well please to get the seats THEY need to do what THEY want.
Utter nonsense.
Since the episode, irrelevant crap has been brought up to slime the victim.
Let me make it clear: if this guy was an ISIS platoon leader, that would have no more relevance to this matter than if he were a Martian, a serial killer, or a Pope.
You cannot use violence to solve a civil issue. Believe me, there are times when I wish you could. But this is certainly not one of them.
Judge Nap: Man Dragged Off United Flight 'Absolutely' Has a Lawsuit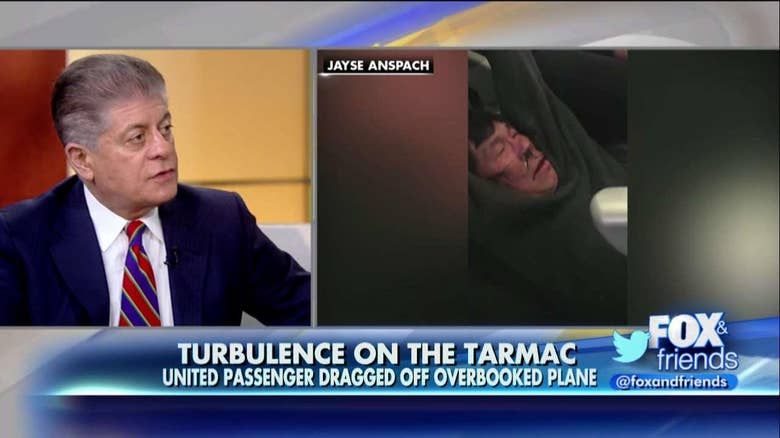 After a passenger was
forcibly removed
from an overbooked United Airlines flight, many people are wondering if United could be facing a lawsuit.
Judge Andrew Napolitano thinks they likely will.
On "Fox & Friends" this morning, Napolitano said there are two things at play: United's civil obligations and the actions of the security officers.
"By dislodging this passenger against his will, United violated its contractual obligation," Napolitano said. "He bought the ticket, he passed the TSA, he was in his seat, he has every right to stay there."
As for the police response, Napolitano said they should not have violently dragged the man off the plane just because United officials asked them to.
"If the reason for their call is not a crime, they should leave," Napolitano said. "They have no right using violence to resolve a civil a dispute. ... If the passenger is politely or reasonably sitting there, waiting for the flight to take off, he's not committing a crime, he's not engaged in violence, he's not doing anything that justifies police force."
He said the man "absolutely" has a case against United if he files a lawsuit, because of the "inconvenience and public humiliation."
Napolitano added that the police could also face a lawsuit, because they used excessive force in a situation in which no force was required.
___________________________________________________________
Airlines treat us all like crap and smile while they do it.

Perhaps... just perhaps... this might put an end to it.

And no amount of people wrongly taking the airline's side can change any of that.