The ultimate insult to the Broncos: The pre-printed Super Bowl Champion T-Shirts wind up in Africa to cloth the poor.
(Bet you didn't know that when you bought the actual winner's t-shirt that you were also paying for the cost of producing the loser's shirt and memorabilia as well.)
It's a fairly well-known fact that the discarded "Super Bowl champions" T-shirts of the losing team are sent to Africa or elsewhere, where they're put to good use by underprivileged people. On Monday, we got a look at the latest American apparel export.
A youth pastor from Kansas City on Monday shared pictures of the Denver Broncos' "Super Bowl XLVIII champions" T-shirts that are apparently now headed for Africa. A Chiefs fan himself, Adam Paul Cooper posted the pictures to Instagram and Twitter, adding what are likely the same thoughts as every Seattle Seahawks fan: "Hahahaha."
MyNorthwest.com reported in February
that the apparel is usually shipped the day after the Super Bowl to a warehouse in Pittsburgh, where the charity World Vision sorts through it and ultimately sends it off to those who need it.
"That's really brand new, high-quality, never worn clothing that could be used somewhere to serve somebody who otherwise wouldn't have access to those things," World Vision's Jim Fischerkeller told MyNorthwest.com.
World Vision, a Christian charity based in Federal Way, works with the NFL to send discarded apparel and merchandise to people in need. A spokesperson did not respond to a seattlepi.com request for comment on Monday's reported shipping.
"It was really cool for me personally to see kids on a soccer field in Zambia wearing Chicago Bears Super Bowl shirts," Fischerkeller said. "What it does is fill an essential need and enables us to concentrate on our other work, which is clean water and food resources and those type of things."
Peyton Manning, you're doing God's work.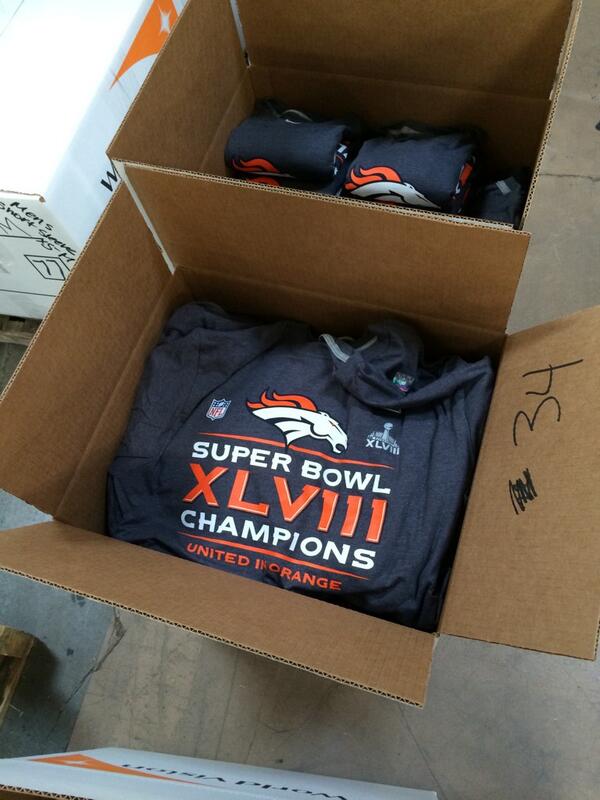 adampaulcooper